The phrase 'high net worth' often brings images to mind of lords and ladies, millionaire bankers and celebrities. But in fact, when it comes to high net worth insurance, it's not just the super-rich who qualify. Let's take a look at what makes you a high net worth individual, and whether you should consider taking out this kind of insurance.
Am I a high net worth individual?
The definition of high net worth can vary between insurers, but as a general rule of thumb, if the value of the contents you're looking to insure is higher than around £100,000, you could be classed as a high net worth individual.
You may also be a high net worth individual is your property is worth more than £500,000. With the current average house price in Kent hovering around £345,000, you may only need to be slightly above average to be thought of as a high net worth individual by an insurer.
In some cases, the entry-level for a high net worth individual can be lower. If you're someone who may cross the threshold into being a high earner or high net worth individual in the next few years, some insurers may offer you the opportunity to start taking out these policies early.
What's included in this type of insurance?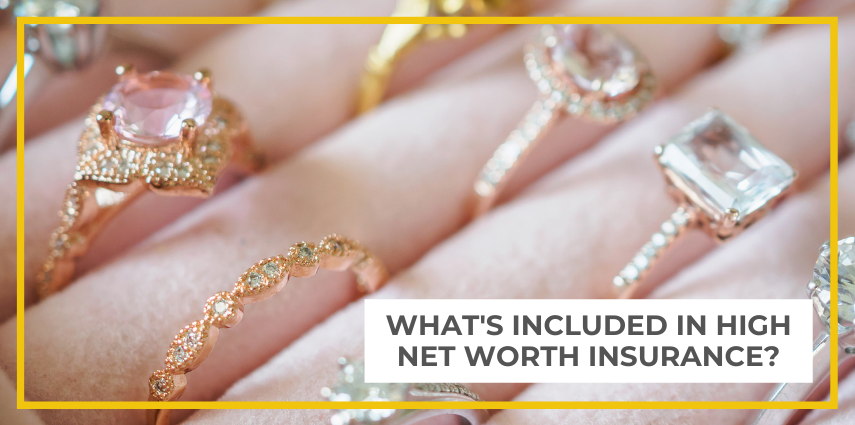 The main things usually covered in high net worth insurance include:
Contents. This should cover all of your contents, including antiques and fine art.
Buildings. With a high net worth insurance policy, buildings and contents insurance can go hand-in-hand, so you don't need two separate policies for each.
Most insurers will also offer add-ons which can cover the following:
Jewellery.
Prestige or luxury cars.
Holiday homes (including overseas).
Musical instruments and equipment.
Boats (speedboats, yachts).
Collections (wine, art, coins, furniture).
Getting a high net worth insurance policy
Because of the nature of these policies, and the fact that no two homes are the same, these policies tend to be completely bespoke. Many insurers will send independent specialists to value certain items before a unique policy is put together for the client.
The main benefit of high net worth insurance is that everything is covered under one all-encompassing policy. Rather than having separate insurance for your cars, your home, your jewellery, your second home, and your collections, you can enjoy one single policy, which covers everything from accidental damage and loss, through to the unusual kidnap and ransom insurance. This offers total peace of mind for those who have many valuable items and possessions that they want to protect.
Get in touch with Morpheus to see how we can help cover your valuable items.