---
In the very first Morpheus Insurance video below, Simon will talk you through self-build insurance and explain the different types of cover that are available.
---
If you would prefer to read a transcription, all of the information can be found below: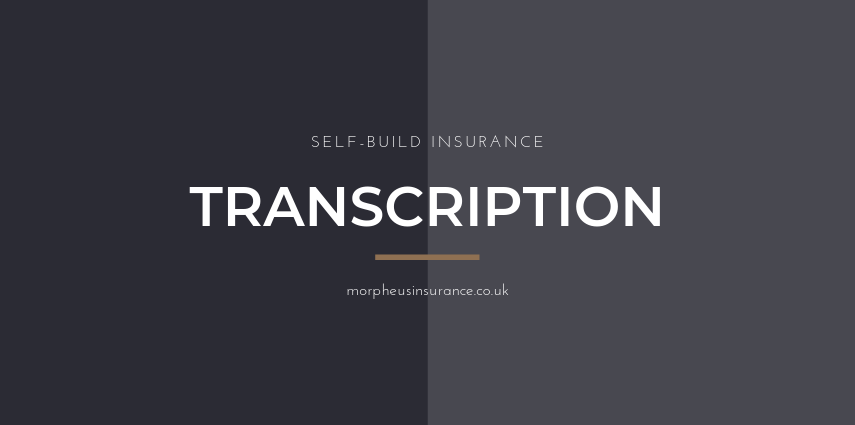 Hi. I want to talk to you about self-build insurance. Now self build insurance is cover for any new build project which you're undertaking, or any conversion, renovation, or an extension to an existing property.
Quite often, lenders will make insurance a requirement. Your self build project is likely to be a significant investment, so it's really important to have the right cover in place. Now we're going to run through a few of those covers that are available within a self build insurance policy.
You can have cover for the existing structure itself, in case of conversion renovation or extension. So effectively building's insurance with existing structure. You can have cover for the works and materials themselves. Obviously, the property's the most important part of the insurance. Public liability, so that's cover for any injuries to third parties on site or damage to their property. Employers liability, so even if you don't directly employ anybody but a friend is helping you, you're paying a bit of cash in hand and they injure themselves, then you will be liable for compensation for their injuries. And it is a compulsory insurance.
You could be hiring in plants, in which case you can take out hired in plant insurance within the policy, and you can also have cover for legal expenses. There are a number of other covers available, which we'll be very happy to chat with you about, but as I said, it's important for you to choose the insurance that is appropriate for your needs.
Something else you might want to consider would be a 10-year structural warranty. Now after the property is completed, this will provide cover for any defect in the design, workmanship, or materials, but as I said earlier, it's so important to get the right advice. Please do your research. We're happy to chat through self-build insurance at any time. Please give us a call, and the number's on the screen. Nice talking to you.