The global COVID-19 pandemic has had a dramatic impact on many industries. Though some businesses have managed to keep operating throughout the pandemic, many have been forced to close their doors for the duration.
Now, with quarantine restrictions relaxing and many businesses being in a position to begin to reopen, there are many considerations and precautions to be weighed up.

We would encourage any businesses on the verge of reopening to consider the information found on the HSE and Government websites, so as to minimise the risks for all involved, while simultaneously ensuring a smooth reopening.

Here are some links to relevant resource pages:
Coronavirus (COVID-19): latest information and advice
Reopen your business safely during coronavirus (COVID‑19)
If you have made any substantial changes to the way your business operates, you should contact your insurance broker to check with insurers to verify that your cover is still sufficient.
In the meantime, here are a few broad suggestions on getting your business prepared for exiting lockdown.
Stay in touch with your employees (or their representatives)
First things first, as your business moves to resume operations and to bring employees back into the fold, it's essential that you maintain open and effective lines of communication with your staff or their representatives – such as union contacts.
In this period of uncertainty, it's essential to provide as much clarity as possible in communication, so that mistakes can be avoided, proper policies can be observed, and everyone can conduct themselves safely and efficiently.
Seek advice from accredited external sources (including government bodies)
In order to ensure that you stay on the right side of existing regulations, while also observing best practice as advised by the experts, you should make a key point of seeking advice from accredited external sources, including government bodies such as Public Health England, HSE, local authorities and the relevant trade bodies.
Create an accessible feedback system for your employees
Your employees will naturally have concerns upon returning to work perhaps the first time in months. Create an accessible feedback system – such as a web portal on the company site – that allows for your employees to raise concerns and queries comfortably and easily.
As well as boosting morale, this could serve as an early warning system for signs of infection, or other issues, spreading within the company.
Investigate ways to make working arrangements more flexible, and add additional rewards and incentives
In light of the effects of the pandemic on people's personal as well as professional lives, and as a reaction to the more stringent regulations that are likely to afflict the majority of businesses, it's very much worthwhile investigating ways to allow for more flexible working arrangements within your company.
Additionally, consider adding extra rewards and incentives to further keep spirits up, and to motivate people to come to work with a sense of confidence.
Ensure adequate first aid supplies and personnel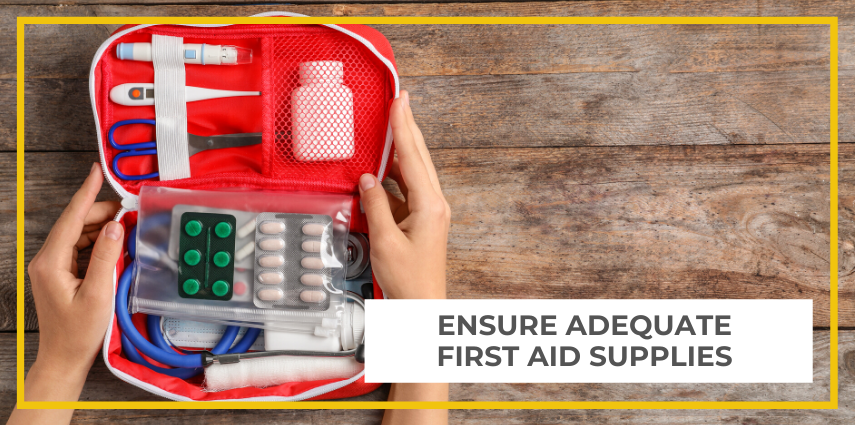 Health and safety are certainly going to be top of everyone's mind as your company exits quarantine. Ensure that you have enough first aid supplies on site, in addition to a decent number of trained first aid personnel.
Consider running first aid training courses as soon as you reopen.
Practice social distancing in the workplace
To the best of your ability, take steps to facilitate and mandate social distancing in the workplace. This might involve moving workstations further apart, and it could certainly also be a good idea to handle meetings through videoconferencing for the foreseeable future.
Have an effective cleaning rota and framework in place
Regularly cleaning surfaces and equipment is one of the best ways of preventing infections in any workplace. Ensure that you have an effective cleaning rota and framework in place, and provide hand sanitiser at regular intervals.
Use signs and reminders to keep employees on the right track
Employees may easily slip back into their old familiar routines upon returning to work; set up appropriate signs and reminders around the workplace in order to encourage them to stick with new standards and protocols.
Ensure you've got the right PPE on-site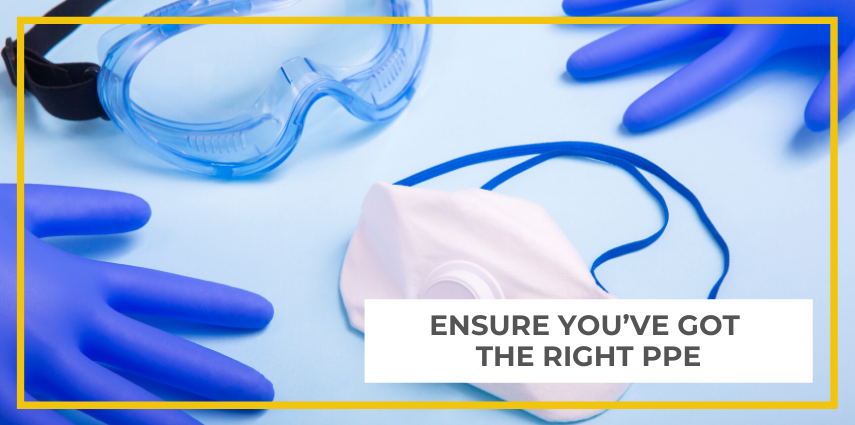 Ensure that you have all the right PPE on-site to not only be on the right side of official guidelines and industry standards, but also to ensure that your employees have an additional layer of protection against infection.
Protect your customers as well as your staff
If you welcome customers onto your premises, you will, of course, need to maintain a high level of safety for them as well as your employees. All of the steps that are covered above can be utilised to cover your customers so that everyone on your site is safe and aware of the steps you have taken to provide a Covid secure environment.